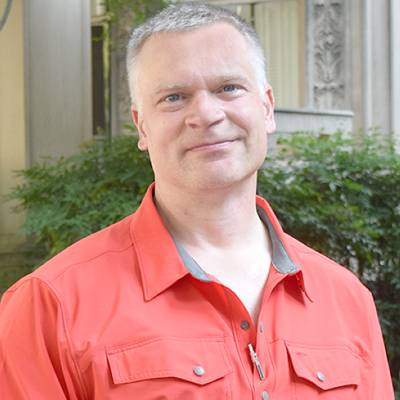 Thomas Eissenberg, Ph.D.
Professor
Co-Director, Center for the Study of Tobacco Products
(804) 827-4617
100 W. Franklin St., Room 231
Health Psychology
Tenured
Faculty

Education
Ph.D.: McMaster University, 1994
Research Interests
Dr. Thomas Eissenberg's primary area of research is the behavioral pharmacology of drugs of abuse, focusing primarily on nicotine/tobacco. Eissenberg is the Director of the Center for the Study of Tobacco Products whose mission is to develop and apply regulatory science to the evaluation of tobacco products and to train the next generation of tobacco regulatory scientists. To carry out this mission, the Center has established the following seven goals:
To facilitate collaborative research and training efforts among faculty from different disciplines (including collaborations across academic departments and schools) that advances the field of tobacco regulatory science.
To develop and maintain core facilities and services that support research on tobacco regulatory science.
To facilitate the application of new knowledge to the development of effective tobacco product regulations through the conduct of translational research and the evaluation of tobacco product regulations.
To develop opportunities for international research and training that supports the Center's mission.
To develop and maintain an outstanding faculty of researchers and educators by assisting in the retention of current faculty and the recruitment of new faculty.
To create new opportunities for individual faculty development, including mentoring for junior faculty.
To train the next generation of tobacco regulatory scientists, including post-doctoral fellows and graduate students.
Select Publications
Soneji, S., Barrington-Trimis, J. L., Wills, T. A., Leventhal, A. M., Unger, J. B., Gibson, L. A., Yang, J., Primack, B. A., Andrews, J. A., Miech, R. A., Spindle, T. R., Dick, D. M., Eissenberg, T., Hornik, R. C., Dang, R., Sargent, J. D. (in press). Association between initial use of e-cigarettes and subsequent cigarette smoking among adolescents and young adults: A systematic review and meta-analysis. JAMA Pediatrics.
Baldassarri, S. R., Hillmer, A. T., Anderson, J. M., Jatlow, P., Nabulsi, N., Labaree, D., Cosgrove, K. P., O'Malley, S. S., Eissenberg, T., Krishnan-Sarin, S., & Esterlis, I. (in press). Use of electronic cigarettes leads to significant beta2-nicotinic acetylcholine receptor occupancy: Evidence from a PET imaging study. Nicotine & Tobacco Research.
Talih, S., Balhas, Z., Salman, R., El-Hage, R., Karaoghlanian, N., El-Hellani, A., Baassiri, M., Jaroudi, E., Eissenberg, T., Saliba, N., & Shihadeh, A. (2017). Transport phenomena governing nicotine emissions from electronic cigarettes: Model formulation and experimental investigation. Aerosol Science and Technology, 51, 1-11.
Meltzer, L. R., Simmons, V. N., Sutton, S. K., Drobes, D. J., Quinn, G. P., Meade, C. D., Unrod, M., Brandon, K. O., Harrell, P. T., Eissenberg, T., Bullen, C. R., & Brandon, T. H. (2017). A randomized controlled trial of a smoking cessation self-help intervention for dual users of tobacco cigarettes and e-cigarettes: Intervention development and research design. Contemporary Clinical Trials, 60, 56-62.
Bahelah, R., DiFranza, J. R., Ward, K. D., Eissenberg, T., Fouad, F. M., Taleb, Z. B., Jaber, R., & Maziak, W. (2017). Waterpipe smoking patterns and symptoms of nicotine dependence: The Waterpipe Dependence in Lebanese Youth Study. Addictive Behaviours, 74, 127-133.
Courses
Grant Writing, graduate level
Tobacco Control in the 21st Century: The Role of Regulation and Regulatory Science, graduate level
Affiliations
Co-founder and laboratory director, Syrian Center for Tobacco Studies
Fellow, American Psychological Association, Division 28
Awards
VCU Distinguished Scholarship Award, 2015
VCU College of Humanities and Sciences Distinguished Scholar Award, 2011
Links